Breakfast is the first and most important meal of the day. When picking vegan breakfast foods it's hard to find options that are low in carbs. The reason most breakfasts are higher in carbs is because carbohydrates is what gives the body energy. But it isn't so simple. There are good carbs like fiber-rich vegetables and fruits, and bad carbs like foods with added sugars. Eliminating carbs from your diet, especially ones with added sugars can help with weight loss.
We've compiled a list of options for low carb vegan breakfast that are delicious, healthy, and filling.
Tofu Curry Scramble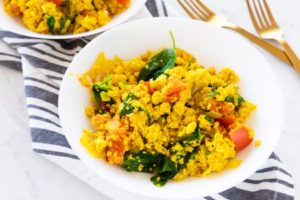 Tofu is a delicious protein rich meat substitute made from fermented soybeans. To make a flavorful and convincing tofu scramble start by crumbling a block of pressed firm or extra firm tofu. We love using local Ota Tofu. In a skillet, heat some olive oil and chopped onion in a pan. Once the onion starts to soften, add the crumbled tofu and 1 tsp of curry powder, and ½ tsp of both tumeric and cumin. Salt and pepper to taste. Stir until the tofu is completely coated and cook for 3 minutes. Add any additional veggies (we love tomatoes and spinach). Cook until the tofu is slightly crispy on the outside. Enjoy this delicious protein packed low carb vegan meal.
Cauliflower Hash Browns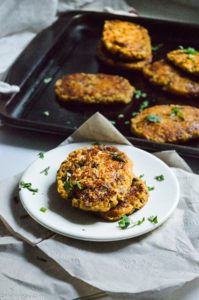 Cauliflower is a great substitute for carb heavy potatoes. Luckily, with a little bit of chickpea flour, arrowroot starch, and garlic powder you can form these into patties and bake them for a dippable low carb vegan breakfast. First process the cauliflower and onions to create a small crumble. Add the flour, starch, spices, and salt. Form into patties and bake for 20 minutes on each side until brown. We love adding guacamole or dipping in our favorite local ketchup Portland Ketchup Company.
Protein Breakfast Bites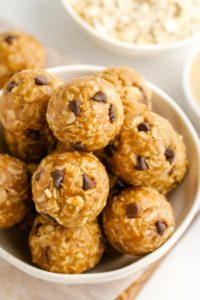 Breakfast bites come together super quick and are easily adaptable. All you need is some time to roll them into balls. First, mix together the dry ingredients, we like pumpkin seeds, chia seeds, flax meal, almonds, coconut, salt and your favorite crushed chocolate, we use Woodblock Chocolate. You can use walnuts, pecans, pistachios, or sunflower seeds too. Then mix together peanut butter and maple syrup. Once combined mix the dry ingredients with the wet and mix until it forms a sticky thick batter. With some coconut oil on your hands roll into little bite sized balls. Place in fridge for 30 minutes. They're ready to eat, or you can coat them in melted chocolate.
Chia Pudding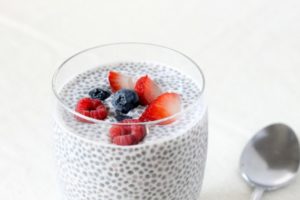 Chia seeds are a widely popular superfood that has a long history of providing energy. It's no wonder the Mayans named the "chia" the Mayan word for strength. In one ounce of chia seeds there is 11g of fiber, and 4g of protein. Chia pudding is an easy overnight treat that will provide a perfect low carb vegan breakfast. Whisk coconut milk with cinnamon, cardamom, vanilla extract, and a pinch of salt in a bowl. Pour over chia seeds and let sit overnight in a covered container. In the morning, enjoy with fresh fruit. You can also add powdered cacao or cocoa for a chocolaty version. Add some maple syrup for a sweeter version.
Low Carb Vegan Gluten Free Pancakes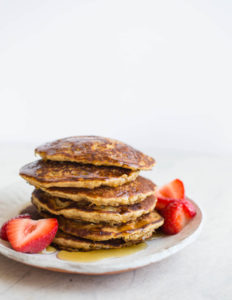 Being a low carb vegan doesn't mean that you have to surrender some of your breakfast favorites. Pancakes have been a staple for a relaxing weekend breakfast for decades. By combining almond milk, almond butter, coconut flour, flax meal, and baking powder you can enjoy a delicious stack of low carb vegan breakfast pancakes. We like to pour local Maple Valley Organic Syrup over the top.
Breakfast salad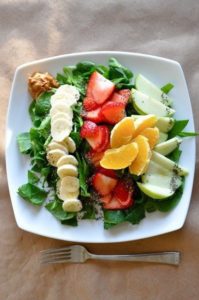 Yes, you can eat salads for breakfast! We love coming up with creative ways to start the morning eating your fruits and veggies. It is an incredible feeling knowing that the first meal of the day will provide so many essential vitamins and nutrients. Our favorite combination for a low carb vegan breakfast salad is antioxidant rich blueberries, oranges, bananas, apples and leafy greens tossed in a blueberry vinaigrette. For crunch factor, we add a small handful of our granola. A fresh start to the day.
Finding a low carb vegan breakfast option isn't impossible. Get creative and find some inspiration for starting your day not relying solely on carbs. Feel free to adapt these ideas for your own lifestyle and favorite flavors.