MADE LOCALLY IN
Portland, OR
Nora's Kitchen Granola is hand-crafted and produced in a certified licensed gluten-free commercial kitchen in SE Portland, Oregon at Gluten-Free Concepts.
It is slow-roasted in small batch production to bring out the unique flavor of healthy oils, nuts, grains, and spices.
Gluten-Free & Vegan
Zero Soy
No refined sugars
Non-GMO
2:1 carb to protein ratio
Low sodium
6 grams of fiber per serving
Low glycemic
8 grams of protein per serving
---
A WORD FROM NORA
Most commercial and bulk granolas are flavored with some kind of processed sweetener, and the second ingredient is usually a form of sugar. I wanted something healthier, where I could actually taste the toasted grains and nuts, so I made my own.
Over the past twenty years, I've been developing and perfecting the recipe for Nora's Kitchen Granola and finding more and more uses for it in my kitchen. I'll grind it up into flour, and add it to cake batter or pie dough. I've sprinkled it on top of roasted sweet potatoes, or any hot dish that calls for a crunchy topping. With some dried fruit or chocolate chips, it makes a great base for trail mix.
GRANOLA ON THE GO
Enjoying it any way and anywhere is simple.

Open it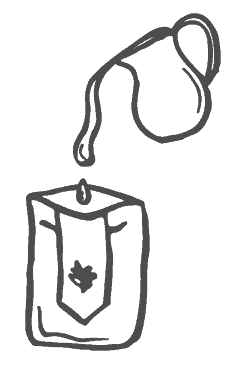 Pour it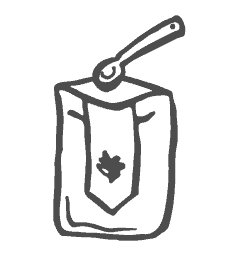 Enjoy it
Great for a nice breakfast while camping
or a quick snack on the road.
Bring it on the plane
for a healthier way to travel.
Get your 2:1 carbs to protein
post work-out.
Pack it into your child's lunch
bag for a healthy snack or eat on the go when dropping them off at school.
WHAT OTHERS HAVE TO SAY
Lynda Todd
"Love the classy packaging. Love the delicious contents even more!"
@teamturmaquik
"The special food grade packaging is absolutely brilliant!"
Tobi Ehrenpreis
 "Best Granola in Portland!"
@kussfacekillah
"The bag you can pour milk right into is such a nice touch. game changer!!!"
Erika Halperin
"Awesome! I love your granola so much, especially this time of year to add some delicious texture to a bowl of Greek yogurt with fresh summer fruit! 😋"
Ed King
"Best I have ever had. I own kitchen facilities and we even make granola- usually it is too sweet for me, but your granola I often add pecans and yogurt. It's so nice to have something so simple I can add what I want to and not feel guilty or have it be overly sweet."
Creative Mornings - Portland
"We love Kelsey's story about starting with Nora's Kitchen. Thank you Kelsey for sharing! And for investing that kindness and generosity forward with us every month. This community wouldn't be the same without Nora's."
Ground Up PDX
"Soooo good! The dreamiest breakfast 😍✨"
@wonderkindco
"We love the simplicity of your packaging! We look forward to trying your granola!!💕"
@jake.s.pac
"My grandmother's name was Nora, which is why I initially decided to try it. Since then I can't go a day without it! It's the perfect addition to my workout and daily routine, and it's incredibly delicious. Thank you for making the most killer granola!"
@capncoconut
"The best part to my routine and keeping me a healthy productive entrepreneur!"
@glutenfreeoc
"I had to hide the minis from my mom. She inhaled the big bag in one go!"
@youality
"The best granola ever! Our subscribers are still raving about it!"
@roseandlincoln
"We are so HAPPY to have your granola at the juicery :)"
@covid19frontline
"Thank you so much for the donation for our healthcare heroes!"
Kate's Ice Cream
"Girl I eat your granola every time I'm in my kitchen! It's become my favorite with a banana and oat milk!"
RECIPES
Try these simple recipes with our granola!

NORA'S KITCHEN
Nora's Kitchen Granola Pie Crust
Living in Portland has made being gluten-free and vegan much less of a burden. However, when I discovered my body would now need these restrictions, I was a bit worried about my sweet tooth. We are in such a swing of minimalism these days and when it comes to baking I need my recipes to be simple as well. With that being said I want to introduce a recipe made by Nora herself. This gluten-free vegan pie crust recipe is great for any time of year. You don't necessarily have to be vegan or gluten-free to love this crust. By adding our version of  "Nora's Kitchen Granola flour" this crust has both great taste and texture.
Making pie crust is a bit of an art for your tastebuds. Pie crust doesn't necessarily have to look good to the beholder – it just has to taste good. I can assure you this pie crust lives up to its name.
Grind Nora's Kitchen Granola in a coffee grinder, food processor or blender. I personally like to use my magic bullet. You will then mix your granola flour with your Bob's Red Mill Gluten-Free Baking flour. Bob's Red Mill is local, here in Portland, that has a designated gluten-free facility. Bob's Red Mill is committed to providing top-quality gluten-free flours, grains and more. We couldn't be more lucky or more happy to access to their amazing products.
Soften and combine butter substitute with coconut oil.
Add flours to the softened shortening blend (along with a pinch of salt) and stir with a fork.
Add 2-3 TBS of hot water and mix until the crust is soft and cohesive enough to roll out. Feel free to add more water throughout the rolling process as well since more flour will just keep drying it out.
See! That wasn't so bad. Now mix your desired pie recipe. I personally enjoy this recipe by Dana, from The Minimalist Baker, which is for a deep dish apple crumble pie.
14 apples, cored, peeled and sliced (a mix of sweet and tart)
scant 1 ½ cups sugar
2 teaspoon cinnamon
2 Tbsp granola flour (from crust recipe)
2 Tbsp Earth Balance
Next prep the apples. Add them to the same bowl as you made the dough in and toss with sugar, cinnamon and some more of your granola flour. Add to pie crust and top with 1 Tbsp Earth Balance, scored into little dots or strips.
Pour some Nora's Kitchen Granola into same bowl. Stir around a bit until coated with apple drippings. Sprinkle across the top of your pie to help you create a crumble.
Bake at 350 degrees for 50-60 minutes, or until pie is warm and bubbly and the top is golden brown.
If you're not into the crumble top, simply make another pie.
Enjoy!
---

@noraskitchengranola
This error message is only visible to WordPress admins
Error: Connected account for the user noraskitchengranola does not have permission to use this feed type.